Blue Crow House, Clonlea, P85YK20 Blue Crow House, Clonlea, P85YK20
Description
Would you like a great house that is livable - and comfortable - from the word "Go" but has so much more to offer in terms of development ? Then look no further.
Blue Crow House might be just your ticket.
The property is in excellent location, a delectable part of West Cork that is bound to become more sought-after in the near future, within commutable distance of Cork (55 minutes) This is a piece of real estate for a very reasonable price that would suit a person (or people) with plans and vision.
The (hidden away) mobile home provides extra residential living space or could be rented out. There is the shell of a building that has once been a family home but could be converted into a large office or a production space, craft workshop etc subject to PP. An adjacent Portakabin is fully equipped as a modest office space and can be used immediately. There are workshops, sheds, stables (in need of upgrading) for two or three horses, and last but not least a good sized field that can be used as pasture or for small-scale (organic) agriculture.
Comfortable, warm and secluded, Blue Crow Farmhouse is a wonderful
lifestyle property standing on c. 1.8 acres of excellently appointed land.
Situated in a lovely leafy setting at the end of a tree lined avenue, the c.
1280 ft² farmhouse has been renovated to a professional standard and is ready
for immediate occupation. The property is complemented by a selection of
outhouses which offer further potential. The quiet rural roads that run outside
the property easily connect to several beautiful and award-winning towns and
villages, including Clonakilty 4 miles and Rathbarry 2 miles. Cork is within
commuting distance. There is a fantastic quality of living available here with
beautiful walks around Castlefreke Woods, beaches at Red Strand, Long Strand,
Ownahincha and Inchydoney, all within short driving distances. Blue Crow
Farmhouse has a good energy rating and interesting features with triple
insulated floors, double-glazed windows, semi-underfloor oil heating, CAT 5
Ethernet wiring, a Satellite system, potential for Wi-Fi, and capacity for a
generator to power the electricity.
Owner's commentary
- Blue Crow House is an old farm that has been renovated to professional
standard. Comfortable, warm, and secluded at the end of a tree tunnel lined
with ferns. It is surrounded by hills and fields. Most days it is peaceful and
quiet yet the rural roads that run past it smoothly connect to Clonakilty
(seven kilometres), the pretty little town which won the Great Town competition
last year ('best in Ireland and the UK') as well as a slew of other awards.
Rightly so, as it is both lively and safe, with numerous pubs, restaurants, and
festivals throughout the year.  It offers plenty of opportunities for
newcomers to integrate.
Towards the
West from Blue Crow House along the N71 is Rosscarbery (12 kilometres) which
hosts top-class restaurant Pilgrims and several other food outlets and pubs.
Closer still are Rathbarry (Ireland's best kept village) with Castlefreke
Castle, a wood, tiny museum, post office, and pub. All around are beaches and
cliffs, stone circles, seaside terraces. The fabulous peninsulas Mizen Head and
Sheep's Head are less than an hour's drive away. As is Bantry, the gateway to
Kerry.
Blue Crow
House is on two secondary school bus routes and within a few minutes by car
from three primary schools. The neighbours are friendly and helpful.
The main house
can be lived in immediately. Two bedrooms, one bathroom (en suite) with bath
and shower, and Italian classic black spiral staircase (Davinci), semi-antique
French wood-burning stove (Eskimo 1910), triple insulated floors, a separate
music room (could be converted into storage space or additional
bathroom).  
There is a
full-flow power/cut switch system designed by Pat Barret that can be switched
over within seconds for use with an external power source (for example, a small
generator). This has been very effective during (very occasional) power cuts.
The oil heating is semi underfloor so the house warms up to the desired
temperature within 20 minutes. The water heating system can easily be converted
from oil to electric (or solar heating).
 The
front faces old stables which are owned by different people and currently
unused as is the obsolete farmhouse on the left. This has been the case as long
as the present owners have been in the property (since 2000).
Blue Crow
House comes with a 1.6 acre field, lined with trees including hawthorn and
mayflower plus stables that have been used for horses until 2006. There is a
rudimentary garden with some fruit trees and bushes. Has been used for
vegetable growing and needs to be redesigned but is in a sheltered location
surrounded by a tall hedge. There is a sizable courtyard with ample
parking. 
A Portakabin
on the premises has been used as a snug and fully functional office space. A
workshop/tool shed and garden shed are also ready for immediate use. There is scope
for further development in the empty building to the right of the main house
which was a separate family dwelling at one stage (would need to be completely
overhauled).  There are two driveways.
In other
words, this property could be residential for a family but it also has the
potential expansion with a view to commercial use. Particularly as it has Cat 5
Ethernet connections in two rooms inside the house and via an underground pipe
system on three external locations on the premises (computer networking with
the possibility to expand into Wi-Fi reception all over the grounds). There is
presently a subscription internet system via satellite (reasonable
upload/download times). There are connections for over 20A machinery in the
larger stable and shed.
The grounds
could be used for small-scale organic agriculture; no pesticides or other
chemicals/synthetic fertilizers have been applied to the land since at least
1996.
Internal house Accommodation c. 119 m²
/ 1282 ft²
Kitchen / Sitting Room 10.8 m x 3.83 m
Superb spacious living area
with a triple aspect giving excellent light. There is a semi solid wooden floor
throughout & recessed ceiling spotlights. The kitchen area itself has
fitted units & integrated five ring gas hob. Integrated oven, storage &
stainless steel extractor fan. The living area centres around a semi antique French
wood stove, recessed ceiling spot lighting. Also integrated storage area. 
Back Hall 1.54 m x 3.37 m
Glazed door out to back hall.  Tiled floor & glazed door out to patio to
the rear.
Utility Room 1.2 m x 3.37 m
With sink & work top
& fitted shelving. Plenty room for storage
Office / Study 2 m x 3.83 m
With fitted shelving this
is a practical & flexible room usable as a study or playroom.
Spiral staircase to first floor landing
Timber floor throughout
Bedroom One 3.7 m x 4.42 m
Large double bedroom with
double aspect windows East & South, antique style fire place & recessed
ceiling spot lighting. There is a Jack & Jill bathroom adjacent so this
room can be used as an ensuite.          
Bathroom 2.9 m x 2 m
This is very practically dual
accessed bathroom which can be used as an ensuite off the bedroom or a
standalone bathroom.  With vinyl wall
panels, tiled floor, bath, wash hand basin, separate shower, WC & wash hand
basin.
Bedroom Two 4.1 m x 4.42 m
Double bedroom with
integrated Hot Press storage off. This double bedroom has a floating wooden
floor, antique style fireplace & recessed ceiling spot lighting. There is a
practical walk in wardrobe / storage room.
Walk in Robe / Study 1.62 m x 4.42 m
Outside
The property has two
different access points. One from the East and one from the North. There is car
parking to the front of the property & a raised patio to the rear.
Outside the property has
got several beautiful & distinct areas & apart from the large, open
field on the North/West side of the property there is a lovely enclosed &
private garden with a pathway running through it.  
Studio/ Outbuilding One 3.75 m x 9.75 m
Excellent potential for a
variety of uses as there is a door, windows & high vaulted ceiling.
May suit as an office,
playroom or work shop subject to necessary consents.
Out Office Portakabin 2.5 m x 5 m
Small Outbuilding to the rear ideal as a timber shed.
Large detached, open sided former hay shed 12 m x 13 m (c. 1680 Sqft)
Incorporating various
storage areas.
Separate workshop 4 m x 6 m
Shed 3 m x 6 m
Services
The property has mains
water supply, electricity, telephone, oil fired central heating, gas supply to
the cooker, private septic tank, uPVC double glazing throughout & broadband
internet connection.  Power cut switch
allowing for the electricity to be powered by a generator in the event of an
outage.  CAT 5 Ethernet connection in the
house.  
Floorplan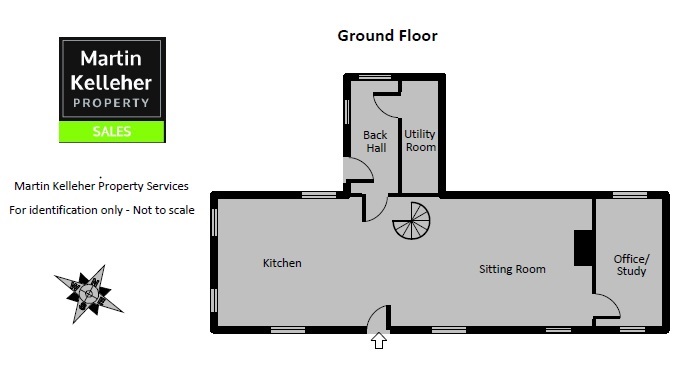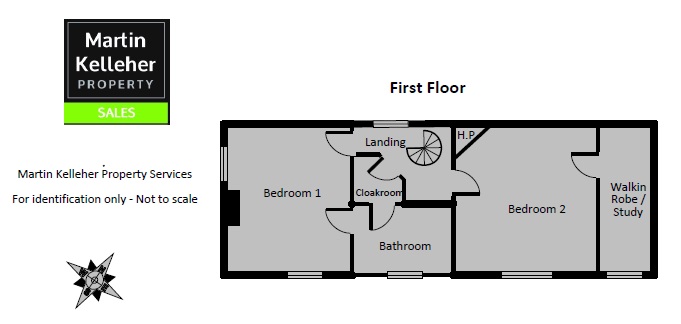 Directions
Type Eircode P85 YK20 into smart phone for exact driving directions.

The property is located between Rathbarry and Clonakilty on the road that runs to the south of the N71.

It is located on the junction of a cross roads known as Hayes' Cross.